Les salles blanches Porkka fournissent un environnement hygiénique optimal
Porkka possède une grande expertise dans la conception et la fabrication de salles blanches pour les produits pharmaceutiques et électroniques. Porkka est également une entreprise reconnue internationalement en tant que concepteur et fabricant de chambres froides avec système de réfrigération dédié. Les salles Porkka peuvent être fournies avec des portes battantes ou coulissantes, des portes coupe-feu pour les navires et d'entrées avec rampes pour l'industrie alimentaire.
Une salle blanche fonctionne de manière à ce que la pression d'air soit plus élevée dans la salle blanche qu'à l'extérieur. Avec ce principe, l'air non-filtre ne peut pas s'écouler des pièces adjacentes dans la salle blanche. La technologie des salles blanches vise à contrôler la présence de particules organiques et inorganiques, la température de l'air, l'humidité et la différence de pression par rapport aux pièces environnantes.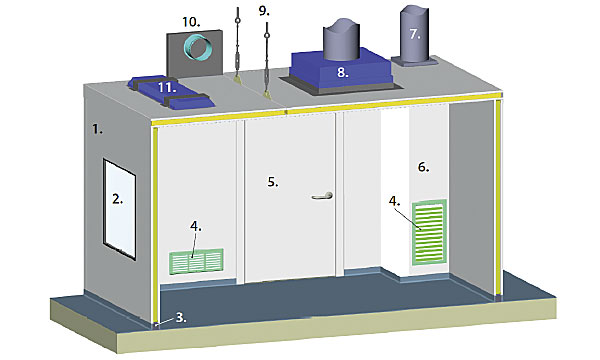 Fabriqué en Finlande
La recherche médicale et scientifique nécessite un contrôle étroit des impuretés dans l'espace de travail. La salle blanche Porkka est la solution pour répondre à ce besoin. Les salles blanches Porkka sont conçues et fabriquées dans une usine moderne du groupe Huurre en Finlande.
Applications et utilisation des salles blanches
Les salles blanches sont largement utilisées dans de nombreux secteurs et industries:
pharmaceutique
Électronique
Biotechnologie et bio-industrie
Technologie spatiale
Industrie alimentaire
Entreprises et industries nécessitant des salles blanches sans particules pour le développement du produit, pour le produit lui-même ou au stade de la fabrication.
Portes de salle blanche
Les portes des salles blanches sont fabriquées dans les mêmes matériaux que les panneaux de salle blanche et ont une épaisseur de 65 mm. Les portes des salles blanches sont fabriquées selon les besoins du client, en tenant compte de l'espacement modulaire de 100 mm. La largeur maximale d'ouverture dans le cas d'une porte simple est de 1300 mm et dans le cas d'une porte double, 2600 mm, et dans les deux cas avec une hauteur d'ouverture maximale de 2600 mm. Les portes sont livrées avec des options de verrouillage et un joint en silicone. Les poignées et autres équipements de porte sont choisis conformément aux exigences de l'utilisation prévue de chaque pièce.
Panneaux de salle blanche
L'isolant CFC des panneaux de salle blanche est expansé dans le moule et ne contient pas de HCF. Le polyuréthane, l'isolant actuellement utilise est le matériau disponible le plus écologique. La densité est d'env. 40 kg / m3. La surface du panneau est constituée de tôle d'acier inoxydable ou galvanisée à chaud de 0,6 mm. Les panneaux sont faits de surface plaquées par immersion à chaud en polyester alimentaire antistatique. Si nécessaire, la surface peut être couverte de polyester semi-conducteur. Les options pour l'acier inoxydable sont soit l'AISI 304 2B ou le 4N (brossé). L'épaisseur standard du panneau est de 65 mm. Les panneaux standard ont une largeur maximale de 1200 mm x une longueur maximale de 6000 mm.
Bureaux de vente Porkka en Europe
Porkka Finland
Mukkulankatu 19,
FI-15210 Lahti,Finland
Tel. +358 20 5555 12
Fax+358 20 5555 497
sales@porkka.com
spareparts@porkka.com
service@porkka.com
www.porkka.fi
Porkka Benelux
COOL EQUIPMENT
Ambachtsweg 32 – BE-9820 Merelbeke
T +32 (0)9 272 72 59
F +32 (0)9 272 72 58
info@coolequipment.eu
BE0460.694.174
www.coolequipment.eu
Porkka Sweden
Industrigatan 21,
S-619 33 Trosa, Sweden
Tel. +46 15 63 48 40
Fax+46 15 61 67 50
sales@porkka.se
spareparts@porkka.se
service@porkka.se
www.porkka.se
Porkka Norway
Ringeriksveien 16,
N-3414 Lierstranda, Norway
Tel. +47 66 98 77 77
Fax+47 66 98 77 88
sales@porkka.no
spareparts@porkka.no
service@porkka.no
www.porkka.no
Porkka U.K.
29B Greenhill Crescent,
Hertfordshire, WD18 8YB
Tel. +44 1923 233675
Fax+44 1923 805717
sales@porkka.co.uk
spareparts@porkka.co.uk
service@porkka.co.uk
www.porkka.com
Central Europe, Asia, Middle East
Mukkulankatu 19,
FI-15210 Lahti,Finland
Mob. +358 40 867 5700
Tel. +358 20 555 5309
centraleurope@porkka.com
spareparts@porkka.com
service@porkka.com
Porkka is Well Known for its Quality and Reliability Throughout the World.
Huurre Group is an internationally known Finnish professional refrigeration equipment designer and manufacturer. We have more than 700 employees in five countries and a turnover of EUR 140M.
Our Porkka range incorporates HoReCa, Scientific and Marine equipments and solutions for frozen, chilled and heated storage, as well as specialist services.
We also offer a comprehensive selection of refrigeration solutions for Marine industry including cabinets, counters, doors and rooms.
Our key markets include Scandinavia, the United Kingdom, Central and Northern Europe and Russia.In addition we have distributors all over the world.